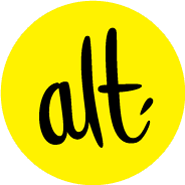 by Jessica Tolliver, Wendy Silverstein & Associates
Last week more than 500 design professionals gathered in Salt Lake City for the third annual Altitude Design Summit. Like many trade conferences, this one featured the usual panel presentations, keynote speakers, networking parties and roundtable discussions.
Packed conference room at Alt 2012
But Alt—as attendees affectionately call it—stands out from the usual fare in a number of ways. Talk in the hotel hallways revolved around things like trendy hairstyles and eyeglasses, gilt-edged business cards, and how cute the keynote speaker was. And more importantly: This new and relatively small conference generates a lot of buzz. Online chatter is still going strong one week after the conference ended, as both those who attended and those who wanted to but couldn't—the conference has sold out the last two years—continue to share thoughts and ideas.
What is the Altitude Design Summit and what makes it unusual? Alt brings together design bloggers and the professionals (marketers, online services, traditional media…) who work with them. Simply put, a design blogger is somebody who blogs about design.  But a design blog can cover all kinds of things, including fashion, interior design, event planning, photography, travel and more. And while some bloggers make a living from their blogs, others use them as a marketing tool for their "real" jobs, like product design, graphic design, interior design, event planning, wedding photography and more.
And these bloggers—most of whom are women—can be enormously influential, setting trends and building buzz. They fall in a newly established and evolving grey area somewhere between traditional media and celebrities. And they're a lot like that cool girl in high school who found out about the "hot new thing" before anybody else did—and then told all her friends about it.
What can a presence at Alt do for your brand? Consider Pinterest, which the Wall Street Journal recently called "the hottest start-up of late in Silicon Valley." Pinterest founder Ben Silbermann attended Alt three years ago to discuss his idea for a new social-networking site where users could "pin" images onto virtual bulletin boards. The next year he was gearing up to launch the site and invited Alt attendees to be among the first to try out the (still) invite-only site.
This year, Silbermann attended the conference as a keynote speaker. Pinterest launched in early 2011, grew by 40 percent in the last six months, and just won $27 million in VC funding. Plus, companies like West Elm, Whole Foods, Nordstrom, Bergdorf Goodman and Real Simple are using Pinterest to market their own brands. (You should check it out, if you haven't already.)
Plenty of big brands also consider Alt a worthwhile place to market their products and services. HP, Cottonelle, Sherwin-Williams, Method and HGTV are just a few examples of the large corporations that attended the conference to connect with bloggers this year. And growing and niche companies were there too.
Cottenelle influences the influencers
How to know if Alt is the right place to go to grow your brand? Follow that age-old marketing advice: Know your target. Do they turn to blogs for ideas, inspiration and recommendations? Is your product or service one that will interest a blogger? Does it feel like a genuinely good fit for her subject matter? If you answered yes, then Alt could be the place for you. Start planning your outfits now.
Mail Chimp at Alt 2012