Nov

10
Posted on November 10, 2011 by Nora DePalma
Once we had a solid case study that chronicled Loews Hotels and Resorts' success using the American Standard Champion 4 toilet to solve the maintenance nightmare of 350 overflowing toilets each month, the pitch came together through serendipity, social media and the inimitable Peter Shankman.
As we were targeting and researching journalists who might find this story beneficial to their readers, we signed up for a Peter Shankman webinar featuring Barbara DeLollis of USA Today Hotel Check-In and the totally hilarious David Moye,  pop culture reporter for HuffPost Weird News (former AOL Weird News).
As the Shankman seminar was underway, O'Reilly/DePalma colleagues Joel Williams and Nora DePalma texted between Chicago and Atlanta:
DePalma: Loews case study?
Williams: Yup, on it.
Williams read some of DeLollis' columns and emailed a succinct and engaging pitch:
"Being naïve to all things hotels, I'd think top hotel chains would be focused on spacious, well appointed rooms, Egyptian cotton sheets and such – not a toilet. Loews and Hyatt, however, think the flush is more powerful than the fluff."
Three days later, DeLollis featured our client in her USA Today Hotel Check-In column.  DePalma followed up with some tweet love:
Which led to further mentions:
The Economist Business Travel Blog 2/11/2011
AOL Weird News 2/18/2011
Bayou Renaissance Man Blog 2/20/2011
Discovery Channel Online 2/25/2011
MSNBC 2/25/2011
eHotelier Global Hospitality News 2/21/2011
PM Plumbing & Mechanical  7/1/2011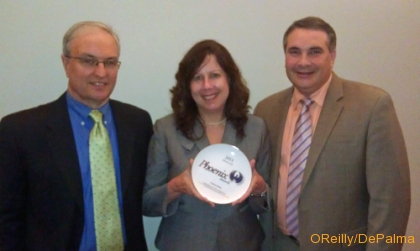 John O'Reilly, Nora DePalma, Joel Williams
On Thursday, November 3, one of the largest Public Relations Society chapters in the US, PRSA GA, awarded O'Reilly/DePalma and American Standard Brands a Phoenix Award in Feature Writing for this public relations case history about case histories.
To find out how we can tell great stories about your products, email John or Nora.