May

21
Posted on May 21, 2010 by Nora DePalma
Today four trade professionals stepped up to donate their time - as well as a few American Standard products - to help make a little dream come true for Adele Lester, the mother of a 23-year old soldier who was badly wounded in Afghanistan. Adele's kitchen received a much-needed update including a new faucet, sink, and garbage disposal as part of the Angie's List Wishmakers program, which provides opportunities for contractors and other service providers to give back to their communities.
It was truly touching to watch this group of talented trade pros volunteer their time in this way. Fortunately the rest of Adele's community will get a chance to watch as well, as CBS, NBC, and FOX Atlanta all had affiliates in attendance, and a reporter from the Marietta Journal was also there.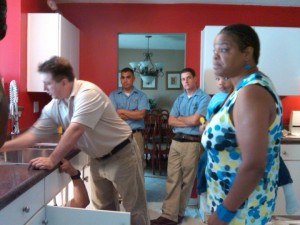 Hope you enjoy your new kitchen, Adele!