Nov

22
Posted on November 22, 2011 by Nora DePalma
All set to feast? We can't wait. O'Reilly/DePalma team members share the dishes that make Thanksgiving so memorable (and workouts so necessary).
Jen Datka: For the past several years I've been making Apple Honey Pie with Thyme for dessert. This year it's being topped with homemade Maple-Rosemary Ice Cream, too
Erik Hoffer: My mom's broccoli and cheese dish.
Mary Ann Blackburn: My favorite Thanksgiving recipe is Sweet Potato Casserole with Pecan Topping. It's from my college roommate Linda (the roommate who actually cooks, not the other one). FYI, I am only allowed to use recipes at my house that have been made and recommended by Linda. This comes after several "experiments" with new recipes that didn't go so well. As requested by my family.
Nora DePalma: Sausage stuffing, my mom's recipe. With NO fruit. Do you hear me, Jim?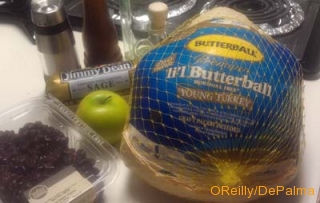 Jim Datka: World's greatest gravy. Look for TWO fruits in your stuffing this year, DePalma.
Heather McCune: Cranberry Salad with Whipped Cream/Cream Cheese dressing. As light and luscious as it sounds.
Kelly Morris: I was given this Thanksgiving recipe 43 years ago when I was just a newlywed and it has been used in my kitchen since the day I said I do.  This is why I enjoy the holiday so much. Bon Appetit
Recipe for Thanksgiving
1. Prepare the table with your finest dishes, silverware, tablecloth and a beautiful centerpiece
2. Take time for yourself before the meal by taking a long hot bubble bath accompanied by some bubbly
3. Slip into that sexy black dress you have been saving for a special occasion
4. Dab a little of that expensive perfume you have been saving
5. Light the candles
6. Call the store from which you ordered your meal
7. Sit down and enjoy!
Have a safe, wonderful enjoyable holiday from all of us to you and yours.
PS: Download the recipes for Sweet Potato Casserole with Pecan Topping, Honey Apple Pie With Thyme, and Maple Rosemary Ice Cream.
Read about more Thanksgiving food, fun and memories among this week's Let's Blog Off contributors. Learn more about Let's Blog Off.