A new partnership between American Standard Brands and WaterAid seeks to save lives and improve access to safe sanitation in Bangladesh. Through their joint effort, hundreds of thousands of people in this developing country will receive a cost effective, sanitary toilet pan to help prevent the spread of disease and improve their standard of living.
"Our partnership with WaterAid plays a crucial role in raising the standard of safe sanitation in Bangladesh. We will be donating hundreds of thousands of our SaTo sanitary toilet pans to residents and institutions in Bangladesh, one for every Champion toilet sold here in North America," said Jay Gould, president and CEO of American Standard Brands.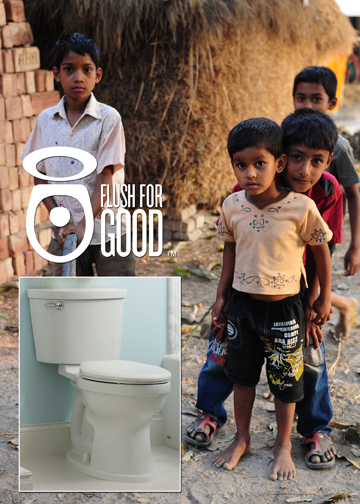 In parts of the world like Bangladesh, where fresh water is scarce and sewer infrastructure does not exist, open pit latrines allow disease to spread through direct and indirect contact with human waste. Globally, lack of access to safe sanitation facilities causes 2,000 deaths each day, mainly among children.
The SaTo (pronounced SAH-toh, derived from "Safe Toilet") uses ingeniously simple mechanical and water seals that reduce the transmission of disease by closing off pit latrines from the open air. After eight months of development at the company's New Product Design Center in Piscataway, N.J., successful field testing on the SaTo was completed in Bangladesh in early 2013. Users especially appreciated how the small amount of water retained after each use created an airtight seal that reduced odors, as well.
For more information on this announcement view the complete press release or email us.