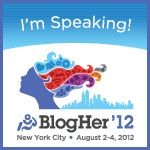 This week, I'm attending and speaking at the annual BlogHer conference in New York for the first time.  What is BlogHer12? A gathering of 4,000 blogging women, each of whom has a circle of influence ranging from the hundreds to thousands to millions of friends, fans and followers.  BlogHer women are considered to be so influential that Martha Stewart and Katie Couric are keynoters, and President Obama is beaming in by video to say hi to us.
BlogHer12 is the flagship event of the BlogHer publishing network, which has a monthly audience of 40 million. BlogHer content is very much like a classic women's magazine (except for the food, fashion and beauty pictures—they are over on Pinterest).   BlogHer brings these highly fragmented circles of influence together in an efficient way for brands to reach key influencers.
Unlike the Mad Men days of placing a clever ad in a woman's magazine, brands at BlogHer12 are investing in an experience.  Similar in many ways to a trade show, with conference sessions and an expo floor, the action at BlogHer—and many other blogger events—doesn't stop at the edge of a 10 x 20 booth. Check out how some of the top brands are courting us:
Starbucks asked us to tweet our favorite beverage from their menu for a chance to be invited to their Starbucks Suite to preview their new Verismo® home coffeemaker.  (I tweeted my fave grande nonfat caramel macchiato and scored an invite to their suite for a tasting Saturday morning.)
Pfizer has arranged a workout with the Rockettes. The Rockettes.  At Radio City Music Hall. New York is my town. There's no way I'm not doing this and sharing the heck out of my experience socially, giving Pfizer all kinds of impressions in my social network in exchange for making a childhood dream come awkwardly true.  Then they booked me for a head and neck reflexology session and the chance for a one-on-one meeting with a dietician.
Carpet One Floor & Home is doing a Spill Bar. They are serving Spillatinis while demonstrating a stain-resistant carpet. We can also get pedicures while listening to the Accidental Housewife, Julie Edelman, on keeping your home "clean enough." Then we can step into a special photo booth so we can share our experience on our social networks.
NGOs are there as well, seeking our advocacy. I had the opportunity (but not the fitness level!) to do a real Army boot camp. The Centers for Disease Control want to talk to us about reducing salt in our diets. See more brands here.
What does all this mean for your marketing planning? Abrams Research just reported in their 2012-2013 Luxury Guide that consumers who connect with a brand on social media spend 20% to 40% more money than those who don't. It also states that young, affluent consumers care more about a brand's narrative than its price tags.
How will it play out in real life? Stay tuned for my report and photos next week.
————————————————-
Here's my panel and my co-panelists!
10 things to Maximize your Social Media Expertise
Friday 1:15- 2:30pm
Stacie Tamaki moderates a conversation with Chris Lam and Nora DePalma about ten actionable, achievable things you can do right now to bolster your social media expertise and make yourself a more attractive candidate for any social media job, gig, or opportunity.