***Help Irene victims in the Bahamas via Kitchen and Residential Design ***
Social media isn't just all fun and branding anymore. Twice in seven days, I've seen it firsthand become the future of breaking news events: reporting faster and more detailed than CNN or The Weather Channel.
Social Media and the East Coast Earthquake
Our conference table and chairs started swaying side to side during a client meeting in Long Island City, NY.  We all looked at each other and then looked around. Did a really BIG truck just go by? Did terrorists strike in Manhattan?  That wasn't just an earthquake in NY, was it?
"Check CNN's site," someone yelled, as we all lunged for our laptops and cell phones. "I should get a breaking news email in a minute," someone else said.
I checked my Twitter stream on my smartphone. For the past two years, I've learned most breaking news on Twitter, so it didn't even occur to me to turn on the TV or log on to CNN.
Sure enough, faster than you could say, "I don't know why the darn Internet is being so slow," there it was: reports of shaky ground from Virginia to Vermont. I was the first at the conference table to confirm it was an earthquake, and the first to report that the epicenter was in VA .
Social Media and Hurricane Irene
As all social media users know, the medium is not for monologues, it's for dialogues: two-way communications.   A savvy social-media civilian on the Jersey shore established Jersey Shore Hurricane News on Facebook late last week to facilitate real-time ground-truth reports of Hurricane Irene related news for New Jersey.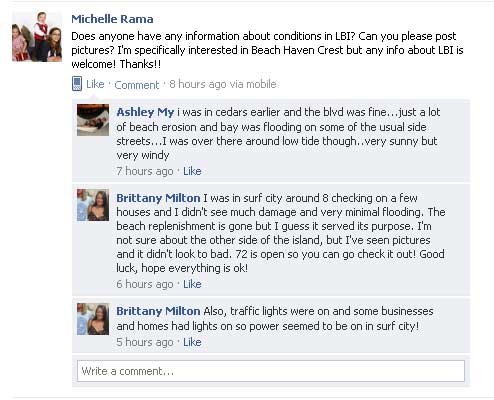 The group surged from about 1,000 members Friday night to more than 26,000 by Monday morning.  Fans were seeking and sharing information on road closures and re-openings, as well as where to find gas stations that were still open and where to buy generators.
We got out of the NY/NJ area well in advance of Hurricane Irene, but I was agonizing over the news from my hometown of Long Beach Island, NJ.
In the Dark Ages—say, 1981 and earlier—we turned to our trusted network or local affiliate TV news anchor of choice when disaster struck. Count me now among the believers that any of us can be breaking news reporters as long as we can see and hear, and then access a publishing platform to report what we've seen and heard.
While repeatedly reminding fans "We are not professional forecasters; this is a service to keep you informed," Jersey Shore Hurricane News delivered news on Facebook faster and more accurately than any other news source. The accuracy came from the participants, answering questions about rumors and sharing ground-truth observations.
No doubt this will be back for future disasters. And so will I.