Jun

13
Posted on June 13, 2011 by No Comments
—
Our American Standard client recently hosted six influential designers who have used social media and blogging to create communities of designers online and-for some-actually reinventing their careers along the way.
Paul Anater (below right) tells the story of going to KBIS a few years ago when he ate dinner alone and had no evening opportunities to build relationships.  Since his skillful use of social media and quite amusing unique voice on his Kitchen and Residential Design blog, he notes that he could barely get through the aisles at the 2011 IBS without being stopped by brand marketers, PR firms, the media and his many online friends.
Rich Holschuh and Saxon Henry have benefited so much from social media, that they have teamed up to create Adroyt, a well-named firm for their entire focus: social media and blogging for brands seeking to reach design influencers.
Andie Day, below right, has recently updated her Boston design practice website as she expands more into multi-generational design. Her blog helps communicate her expertise   (Great shots from Standard Hotel Rooftop Bar.)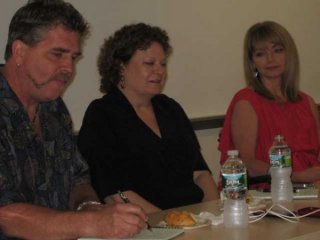 J.B. Bartkowiak (below left) was inspired to share images of his current bathroom remodel underway, already using Porcher products to replace some historical "Standard" products. Laurie Burke (below right), a.k.a. "CabinetGal1" on Twitter, flew in from California to join us as she ramps up her cabinet rep firm.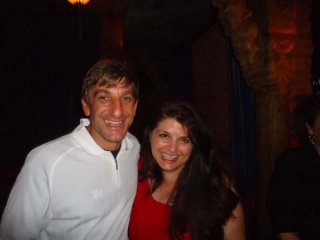 Business got done.  Fun is definitely part of it. The Return on Relationships™ is not designed to drive immediate sales, but rather to build and/or rebuild trust among specifiers who influence homeowners, the media and other professionals.  And believe us when we say this group can make the needle move on social media.
Click any image below to start the slide show.