Apr

7
Posted on April 7, 2011 by One Comment
—
After nearly four decades in the building products business, I finally got myself across the Atlantic this winter to the biennial ISH fair in Frankfurt, Germany. Shame on me: I should have made the scene at this grand event many moons ago. There is absolutely nothing in North America that I have come across that even begins to compare.
If you know anything about ISH, even if you've never attended, you are probably aware of the scope of the overall fair (11, multi-level buildings); the size and opulence of the exhibits (some of them mini-trade fairs unto themselves); and most of all, the phenomenal crowds cruising its aisles and corridors: more than 200,000 attendees at this year's event. Upon arriving at the show last month, I found that reality matches all the hype and then some.
But the first thing that hit me about my Inaugural ISH Experience was the high level of hospitality exhibitors happily and freely extended to attendees — great food and lots of German beer (and wine), of course. But also a sheer abundance of… what's the word? Oh, yeah: FUN. People really seemed to be enjoying themselves.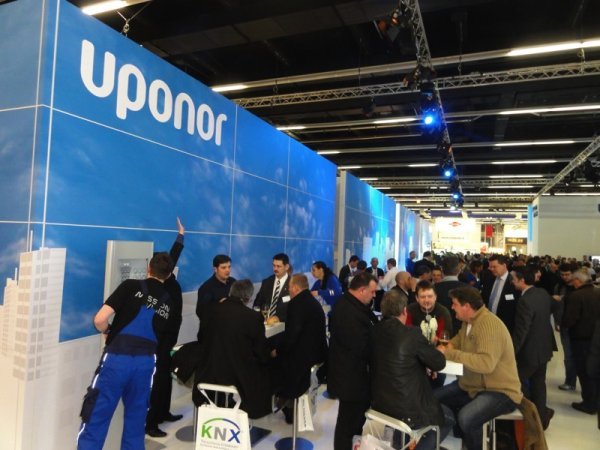 Return on relationships: The sit-down restaurant inside the Uponor booth, where attendees could enjoy beer on tap and something to eat. Uponor was far from the only exhibitor offering this sort of hospitality.
And not just after hours. But right on the show floor, with attendees interacting with interesting brand experiences for literally hours on end. Don't underestimate the return. "There's a lot of business going on here," advised This Old House's resident plumbing expert Rich Trethewey, whom I encountered at the Uponor booth.
In today's tight economy, the trade-show budget line item is one of many under intense scrutiny. Yet in some ways, it has always been thus. For as long as I've been in this industry, brands have been putting pressure on trade show organizers to demonstrate ROI for their heavy investments in shows, conferences, local meetings and more. "Show me the money!" is an American economic reality that never wanes.
But with trade shows, I fear we have "ROI-ed" the fun out of these events to the very detriment of our business goals. On the fun-o-meter, the typical U.S. trade show ranks a half-notch above a trip to the dentist, a pitiless grind even in good times. How many times have you been through a fast run-through of key messages from a bored booth staffer and on your way in less than 10 minutes, texting friends about where to meet for the REAL fun after 5 p.m.?  Where just as much — if not more — business gets done.
It's a universal truth that we all do business with people we like and like to be around. After attending ISH, pardon me if the whole thing now seems a no-brainer. U.S. trade show exhibitors would do well to think more about booth hospitality along with their key messages. Give people a reason to come in, sit down and stick around a while. Just to talk — with you. Get into real conversations with people, and learn more about them and what they truly want and need.
Figure out how to have a little more fun, and everything else — including ROI — is quite likely to follow. Because having a good time is just as American as making money.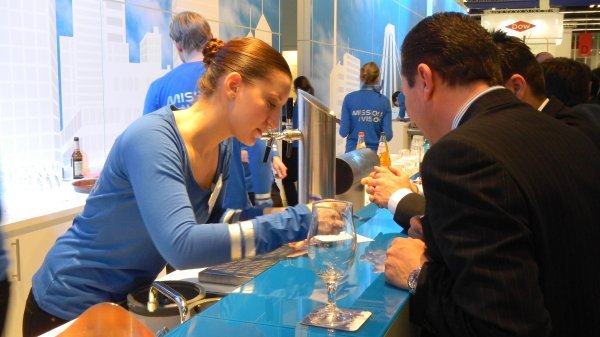 No standing around, gumming a slab of cold pizza for attendees at ISH, where they know how to enjoy themselves and do a little business.