Dec

31
Posted on December 31, 2011 by Nora DePalma
It's been a record-breaking year for horror. Extreme weather in 2011 resulted in 12 events exceeding the billion-dollar mark in damages, according to the National Oceanic and Atmospheric Administration (NOAA),
The previous record was nine events in 2008, as evidenced in the chart below.
"In my weather career of four decades, I've never seen a year quite like 2011," says Jack Hayes, director of the National Weather Service, on a video posted on the NOAA Extreme Weather 2011 microsite. "I can't remember a year in which we experienced record-breaking extremes of nearly every conceivable type of weather."
Climate change?  Hayes says we need to gear up for more extreme weather and I choose to believe him: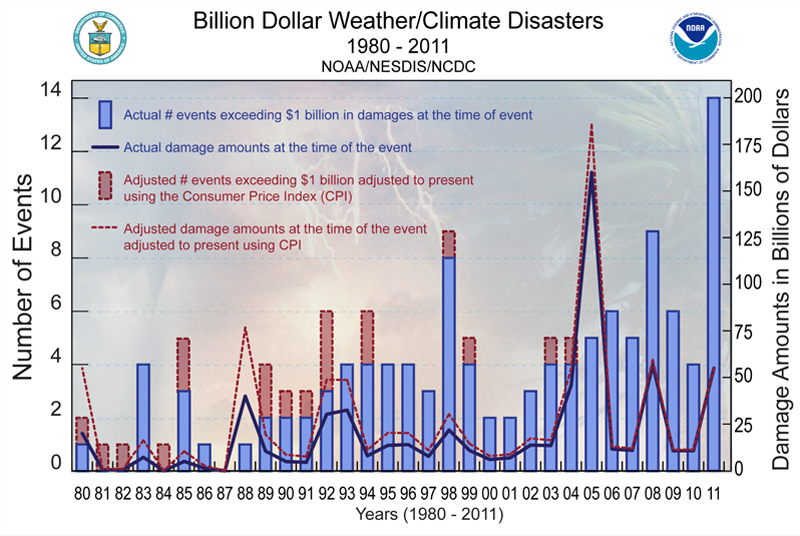 I was spooked by the late April tornadoes that destroyed homes and lives an hour north of us in Georgia, as well as Hurricane Irene, making landfall just south of my hometown on the Jersey Shore. John noted that 2011 was the second wettest year on record for Chicago, which had its two wettest years on record over the past four: 2008 with 50.86 inches, 2011 with 49.41, including that 20-inch snowstorm last February that stranded many of our industry friends at the AHR Expo in Las Vegas.
But the record-breaker I can't get out of my mind is the Joplin, MO tornado. Who can fathom an EF5 tornado—the highest wind speeds known to man—so large and moving so slowly that some survivors experienced the calm of the eye.  That awful day in May resulted in more than $6.5 billion insured losses, with total losses greater than $9.1 billion, NOAA reports.
That's just in losses that can be rebuilt. The Joplin tornado eventually caused about 160 fatalities, adding to the tally of more than 600 lives lost to natural disasters in the US this year.  One of the first Joplin fatalities was a teen driving home from his high school graduation. In a Hummer.  The single greatest loss of life in one location was at a Joplin nursing home. The Joplin Globe newspaper later editorialized that such facilities really should have safe rooms.
Agreed.  Also agreed that similar investments "behind-the-walls" is money well-spent, whether it is for safe rooms, home fire sprinklers, fire-resistant roofing, secured garage doors, flexible gas and water line connections and pretty much any of the suggestions the Federal Emergency Management Agency (FEMA) recommends to protect homes and buildings as part of its Building Science Branch.
It's a case of pay now, or pay later. Hitting 12 billion-dollar-plus disasters is not a record we want to break. Our industry New Year's resolution: build safer and more sustainable homes and buildings.