Oct

27
Posted on October 27, 2011 by Nora DePalma
Is your bathroom ready for aging?
By aging, I totally mean you.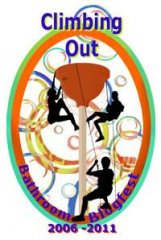 Since starting in the building products industry 20+ years ago, I can't help but notice that we haven't made a lot of progress towards accepting bathrooms that accept us at all stages and phases of life.
Which brings me to an interesting bathroom "climbing out" story.
My parents lived on their own until my dad was approaching 97 and my mom was in her 80s. My mom was doing everything she could to shield my dad from the embarrassment of having caregivers take over his daily routines.
On one of my usual visits, Mom couldn't wait to tell me just the funniest darn story. "Arthur, tell Nora what happened to us in the bathroom last week!"
"Is this something I want to hear?"
"Oh, it's funny! You'll love this," Mom is laughing. Dad is laughing. I wait expectantly.
"Daddy is in his bath and can't get out!"
"I can't get out! Stuck!" My dad is leaning onto my mom because he is laughing so hard. "Get it? I've fallen in and I can't get up!"
So far, this is not funny.
"So he calls me in and I try to help. Guess what happens?"
I can't imagine.
"I fall in with him!" Mom howls.
"Now we're both stuck, absolutely soaking wet, and neither of us can get out!" Daddy can barely get the words out. They are having the time of their lives telling me this story.
I am not laughing.
My parents don't want unknown caregivers helping them with their most private of functions, and yet they are unable to climb out of the tub. I have a full-time job and a family an hour and a half away. One of these days, the police will knock on my door to tell me my parents have been found drowned together in the bathtub.  We will be on the news.
No one has really figured out how to make an accessible bathroom that doesn't look like an accessible bathroom. This is not a problem in itself, it's only a problem because no one wants to install a bathroom that looks like they need an accessible bathroom.
•    We have developed all kinds of creatively decorative grab bars. But they are still grab bars.
•    We have safe walk-in tubs (the type my Mom actually wanted after she moved in with us as a widow) that can drain rapidly.  They look beautiful, as you can see in this story from the October 2011 issue of Fine Homebuilding. But they are still walk-in tubs.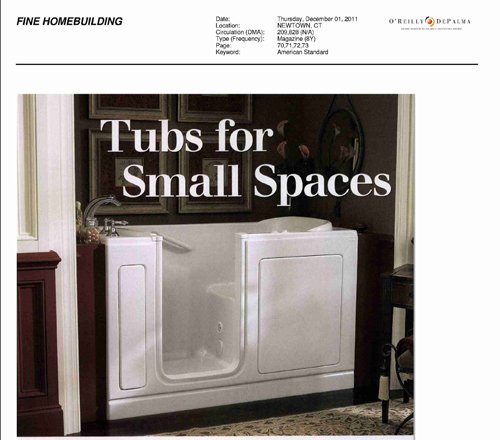 •    We have zero threshold seated showers with handshowers that can easily replace an existing tub/shower and work for the whole family. But they are still showers with seats.
To climb out of the bathroom, I challenge our industry to keep working on beautiful solutions for safe, stylish aging-in-place bathrooms.
But I also challenge us, as consumers, to climb out of our singular idea of what makes a beautiful bathroom.
For me, a beautiful bathroom is one that keeps my family safe and independent. And dry.
What is Bathroom Blogfest? Brainchild of the uber-creative Christine B. Whittemore, Bathroom Blogfest originated in 2006, bringing together bloggers from around the globe to write about the importance of bathrooms in the customer experience. Their posts come from a wide range of perspectives that include sociology, marketing, research, psychology, environmental, customer experience, and user-experience design.  Read the other creative contributions from 2011: