Dec

8
Posted on December 8, 2009 by Nora DePalma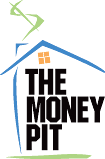 While 2009 may go down as a year many home builders would like to forget, a renewed focus on home remodeling and energy efficiency has fueled record growth for the nationally syndicated home improvement radio show The Money Pit.
Hosts Tom Kraeutler and Leslie Segrete added 60 new radio stations to the show's 228 station line up in the last 11 months, marking the biggest growth year in the show's 10 year history.
"In an economy where few could afford to move, The Money Pit has been an invaluable resource for listeners looking to make their homes more comfortable, energy efficient and affordable.  The show is an important part of our line-up, and is popular with both listeners and the local sponsors looking to reach them," said Paul Giammarco, Program Director for Money Pit affiliate WPRO in Providence, RI.
Read more about home improvement radio on the rise.