Dec

22
Posted on December 22, 2011 by No Comments
—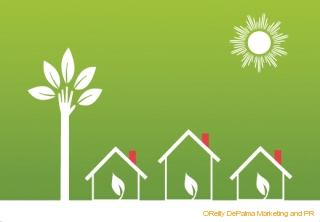 2011 was quite a year for natural disasters.  Everyone at O'Reilly-DePalma and at our clients stayed safe, although there were some close calls. For people whose lives have been upended, who have lost homes, towns and loved ones, we wonder how they find hope again.
Then we met a great organization that is delivering hope on a daily basis: GreenTown Joplin. An offshoot of Greensburg GreenTown, GreenTown Joplin is helping the Missouri town that was devastated by a tornado last May to rebuild sustainable and durable new homes and buildings.
We met GreenTown founder Daniel Wallach and his wife, Catherine Hart, when he was invited to speak at a Green Builder Media event this summer.  Wallach lives about a half hour away from Greensburg, KS and was moved to take action after witnessing the aftermath of a similarly-horrific tornado in 2007. Together with city and county officials, business owners and local residents, GreenTown set up a system for residents to source unbiased research on how to build high-performance, healthy homes.
Greensburg not only rebuilt, but created jobs through a new industry, attracting eco-tourism groups from all over the world to study emerging environmental technologies. Or as Wallach calls it, a permanent trade show.
What could be a better investment for building, home and architectural brands than a permanent exhibit demonstrating the real-world performance of environmental products?
For Joplin, Wallach and his team are in a race to secure financing from individual and corporate sponsors to fund the estimated 60 percent of projects waiting in the wings for financing before public interest wanes.
O'Reilly-DePalma and the Green Earth PR Network selected to financially and materially support GreenTown Joplin as a gift to our valued clients this year. Wallach's story of hope was amazing, and resonated with us as the building industry begins its own rebuilding from disaster.
Can you help Joplin? Here's how:
1. Make an individual donation (via PayPal) and become a member here.
2. Join as a corporate member here.
3. For product donations and more, call Daniel and the GreenTown team at 620-723-2790.