Oct

21
Posted on October 21, 2011 by No Comments
—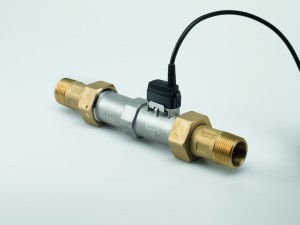 The Grundfos Vortex Flowsensors (VFS) are combined flow- and temperature transmitters ideal for residential and commercial solar thermal systems. Part of the company's family of Direct Sensors, the sensors integrate micro-electro-mechanical (MEMS) sensing technology with an innovative corrosion-resistant coating that enables direct media contact for faster temperature and flow response, even with aggressive media. In addition to temperature control, the sensors also monitor flow rate accuracy to within 1.5 percent of full-scale flow.
The new two-in-one VFS sensors are ideal for monitoring solar thermal loop systems. Stand-alone temperature and flow sensors result in slow and inaccurate temperature regulation.  With a stand-alone temperature sensor, intelligent boiler technology is able to compensate for changes in inlet temperature and efficiencies in the heat exchanger, but there is no link to the consumption/flow of water.  Conversely, with a stand-alone flow sensor, a system can easily regulate the volume of water, but cannot respond quickly enough to changing temperature demands.
By combining the two; the best of both worlds will occur: A fast and accurate regulation of temperature.  Learn more here.