Sep

1
Posted on September 1, 2011 by No Comments
—
When you were sick, Mom advised steamtherapy, firing up the vaporizer and serving bowls of hot soup to help open up clogged nasal passages. When you were a teenager, Mom advised holding a towel over a steaming pot of water to moisturize and clarify the skin.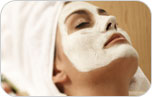 As with most things in life Mom knew best. "Unlike the dry heat of most saunas, steam soothes the nasal passages and respiratory tract, relieves congestion and clears the sinuses," says Andrew Weil, m.d., the author of "8 Weeks to Optimum Health."
If you're planning on a bathroom remodel anytime soon, you can achieve health and beauty advantages of a steam room right in your own home for a lot less than you might expect.  "I have long recommended steamtherapy for its health benefits and use it frequently myself," Dr. Weil continues. "It relaxes mind and body and neutralizes stress."  Learn more here.