Jan

21
Posted on January 21, 2011 by No Comments
—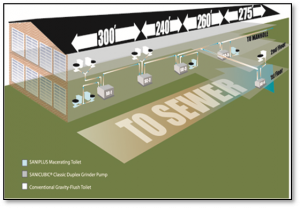 Mechanical Contractor Al Warren overcame the lack of drainage and long sewer line in a historic  19th century industrial building by using an innovative system from SFA Saniflo to pump and process waste without digging.
The project's challenge was to tie the 1897 plumbing system into the municipal sanitary sewer system.  Making matters worse, contamination was found nearly everywhere, so digging to install new sewer lines and plumbing wasn't possible either. Plus, the Remington Rand building is 950 feet long – more than three football fields – so the project needed a solution for moving plumbing waste across this expanse plus another 100 feet or so beyond its walls to the sewer main.
The result was the installation of five duplex grinders, positioned at intervals on the ground floor, along the length of the building. This created a "stair effect" that achieved the right pitch in the pipe to accommodate the extreme length of the sewer line.
The duplex grinders are installed right on the floor – there is no need to dig. They can handle waste matter from multiple plumbing fixtures, without storing sewage, as sewage ejectors do. Each one pumps effluent up through small diameter pipe into the main and out to the sewer. They work in concert, handling cumulative waste for the entire two-story building.
The case study was featured in the Middletown Press.