Dec

13
Posted on December 13, 2010 by No Comments
—
American Standard Brands was recently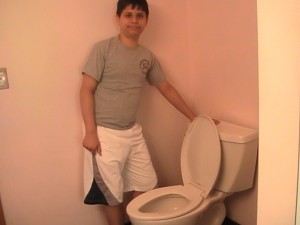 in the news for collaborating with John-Michael Gigliotti, a 14 year old autistic teenager and highly knowledgeable toilet fan, to help him improve the restrooms at a public park in his hometown of Camden, PA.
John-Michael has been fascinated by toilets since the age of 3 and learns all he can about the different styles, brands, and flushing mechanisms available. Earlier this year John-Michael was given a tour of American Standard's Piscataway, NJ-based factory, where he thoroughly impressed the staff with his knowledge of the brand's product line.
The company donated the toilet of John-Michael's choosing to his family and has also agreed to donate plumbing fixtures to update the restrooms at their local park at his request. American Standard representatives asked John-Michael to identify what is needed at the park and the company will then donate product to meet his specifications.
John Michael's father, Camden City Council Member John Gigliotti, sent a lovely note to the company thanking them for their generosity and for their engagement with his son, saying, "it is going to take this spirited type of thinking and approach to help transition many of these children into adulthood and obtain semi-independent living with meaningful employment."