Oct

27
Posted on October 27, 2009 by One Comment
—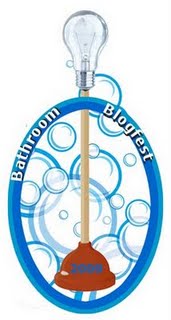 Our Professor Toilet blog for American Standard is part of Bathroom Blogfest 2009.  This is a fascinating study in how social media brings content together in an ad-hoc, yet engaging and well-linked experience.
The brainchild of Simple Marketing Now principal C. B. Whittemore, Bathroom Blogfest 2009 includes a promotion from the Kaboom brand of cleaners and the diverse list of contributing bloggers includes long-time O'Reilly/DePalma friend Leslie Clagett at kbculture.  We are all supplying content and links around a single theme:  "Flush The Recession and Plunge Into Forgotten Spaces."
Our first Blogfest post,  Flushing this Economy Will Take More than the Average Toilet plays up the recent top scores American Standard toilets received for "bulk removal" in the independent Maximum Performance Testing (MaP test) by John Koehler and Veritec Consulting.
Early indications show high quality traffic visiting Professor Toilet. It will be interesting to see what happens. List of bloggers is below:
Susan Abbott at Customer Experience Crossroads http://www.customercrossroads.com
Reshma Anand at Qualitative Research Blog http://onqualitativeresearch.blogspot.com/
Shannon Bilby at From the Floors Up http://fromthefloorsup.com/
Shannon Bilby and Brad Millner at My Big Bob's Blog http://blog.mybigbobs.com/
Laurence Borel at Blog Till You Drop http://www.laurenceborel.com/
Jeanne Byington at The Importance of Earnest Service http://blog.jmbyington.com/
Becky Carroll at Customers Rock! http://www.customersrock.net;
Leslie Clagett at KB Culture www.kbculture.blogspot.com
Katie Clark at Practical Katie http://practicalkatie.blogspot.com/;
Iris Shreve Garrott at Checking In and Checking Out http://circulating.wordpress.com/;
Julie at Julie's Cleaning Secrets Blog http://cleaningsecrets.greatcleaners.com/
Marianna Hayes at Results Revolution http://www.resultsrevolution.com
Maria Palma at People To People Service http://www.people2peopleservice.com/
Professor Toilet at Professor Toilet's Blog http://www.professortoilet.com/
David Reich at My 2 Cents http://reichcomm.typepad.com/
Bethany Richmond at The Carpet and Rug Institute Blog http://www.carpet-and-rug-institute-blog.com
Carolyn Townes at Becoming a Woman of Purpose http://spiritwomen.blogpsot.com
Stephanie Weaver at Experienceology http://experienceology.blogspot.com;
C.B. Whittemore at Flooring The Consumer http://flooringtheconsumer.blogspot.com and Simple Marketing Blog http://www.SimpleMarketingBlog.com
Linda Wright at Lindaloo.com: Build Better Business with Better Bathrooms http://lindaloo.com/