Aug

2
Posted on August 2, 2009 by No Comments
—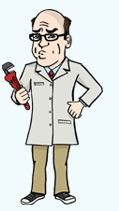 Professor Toilet is fascinated by the science of toilets helping to protect the health of our nation. Seriously.

Follow the Professor on Twitter. Fun fact.  There are 850 tweets a day about toilets.  Who knew?
Is There Really a Professor Toilet or is This Some Cheap Marketing Stunt? We've answered that.