UV Resources, a manufacturer of ultraviolet germicidal irradiation systems for HVACR applications, wanted to raise its visibility among commercial specifying engineers, facility managers and building owners.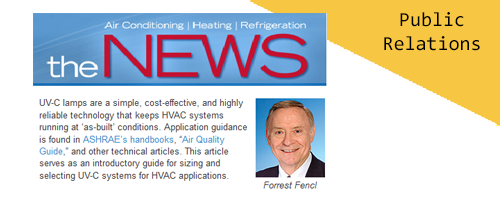 O'Reilly DePalma developed a budget-minded trade media relations campaign to showcase the company's thought leadership through a series of bylined and feature articles, case studies and trade show support activities. This content creation strategy required solid subject-matter expertise and strong brand journalism.
In the first half of 2014, the agency placed five bylines articles, two features and several case studies. Well, let's say we were able to place one case study in more than five vertical, non-competing outlets -- thereby extending the value of this media relations investment five-fold. The agency also managed to obtain a cover mention for UV Resources in the March/April edition of Mechanical Business magazine.
Moreover, editors of three of the company's most influential trade publications report that these thought leadership articles rank among their most popular downloads (Air Conditioning, Heating & Refrigeration News, Consulting Specifying Engineer and HPAC Engineering).
In fact, industry editors now routinely request comment and editorial content from UV Resources, because they know it will be provided in an educational, non-commercial, format that will be valuable to their readers.
In all, the agency drove more than 280 placements representing more than 1 million total media impressions during this six-month period. Some might say that this content strategy was illuminating for the maker of UV-C lighting.
For more information on UV Resources, click here.