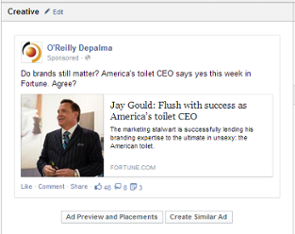 Over the past decade, Facebook has grown from being almost purely social to being a place of business as well. Still, many firms do not feel it worth their budgets to invest in Facebook ads, thinking social media marketing unproductive or unreliable.
It is important to consider the stats, however. At the end of 2013, Facebook had 1.23 billion users, which is nearly a fifth of the world's population. Of these, around 757 million logged in every single day.
In America alone, 30 percent of people get their news from their Facebook news feed, making it a prime place to advertise. Compare this to the 23 (and declining) percent of Americans who read a newspaper every day.
Added to this is the relatively low cost of purchasing Facebook ads. From a marketing standpoint, the cost can be as low as $0.25 per 1,000 impressions, which is one percent the cost of advertising on television. Indeed, the minimum cost for Facebook ads is a mere $1 per day. OReilly-DePalma has been able to achieve engagement rates of less than $1 per like or share through our Facebook advertising for clients and for ourselves.
With such low costs and such a vast reach, Facebook provides an easily accessible global market to any business owner. However, reach is not the same as effective reach, and there are a number of terms to understand before beginning any kind of social media advertising campaign on Facebook.
Let's look at how Facebook's advertising process, which consists of:
A Campaign
:
This is the broadest term, referring to your advertising's overall objective (EX: driving traffic to your site). Set your overarching goal here.
An Ad Set
:
You can have multiple ad sets within a campaign which cover different areas. They are groups of ads through which you can plan out your campaign by targeting specific audiences and assigning ad budgets and schedules.
Ads
:
These are the ads themselves and you can naturally design how they look and what they say. There are usually multiple ads within an ad set.
Facebook allows you to control the following aspects of your advertising campaign:
An Audience
:
You have the ability to choose who and how many people will see your ads. It is always better to have a target audience in mind that you feel will be more receptive to your message rather than taking a shotgun approach and sending it to everybody. To this end, Facebook allows you to considerably focus your ad based off factors like location, interests, age, gender and even more advanced options, such as language, behaviors education, etc.
A Daily Budget
:
You can decide exactly how much you want to spend on ads each day, with the minimum amount being a mere $1. This gives you the opportunity to gauge your ads' effectiveness without breaking the bank and adjust accordingly.
Duration
:
You control exactly how long your ad will run on Facebook and have the capability to either set a specific end date or to have it run continuously.
There are different types of ads that appear in different parts of Facebook.
News feed mobile/desktop ads

:

These ads appear right on users' news feeds. As they scroll through their friends' posts, they will see your ad.
Right Column Placement

:

These ads appear in the right hand column of users' Facebook pages along the side.
Boosted Posts:
Boosting a post is a simple way to push your content higher in the news feeds of people who like your page and their friends, or people you choose through targetting with a set budget. A "boosting" can be done on any post on your timeline. The difference between boosting and post and promoting a post through targeting is that promoting a post allows more options in the Facebook Ads Manager area. According to SocialMediaExaminer.com, if your goal is to engage with your current fans, it might be a better option to use a promoted post and directing the ad only go to your community, to guarentee proper targeting.
Promoted Posts

:

Promoting a post allows you to choose from more targetting, pricing and bidding options in comparison to boosted posts. This option even allows you to use a conversion pixel in a scenario where your post sends traffic to your website where you've installed a conversion pixel.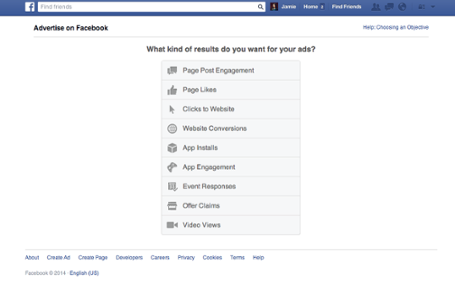 Facebook gives you a variety of options, suggesting a certain route based on a goal you have in mind. These goals include boosting your page post engagement, increasing page 'Likes,' increasing video views, encouraging more people to visit your website, making more website conversions, motivating more people to install your apps or engage with your apps and promoting an event or an offer.
Both the boosted post and promoted post results appear in the Ads Manager, where you can view and analyze how your content has been performing.
Overall, Facebook offers you a number of options and customizable features when it comes to advertising. Ultimately, though, Facebook is still only a tool and positive results are not guaranteed. It still comes down to a sound marketing strategy and informative, interesting content to decide how effectively Facebook will serve your business.