Twitter use has evolved. One of the latest and greatest modes of mass communication, it stands strong as one of the top ways that people communicate today. As a result of this progression and due to the increasing need to report on success, tweeters have gone to the extent of testing variations of the same tweet in an attempt to nail down the "perfect formula" and define the best Twitter marketing strategies.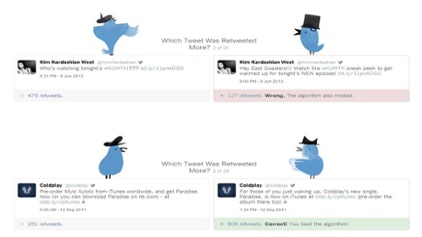 In fact, a recent New York Times article mentioned the group of scientists from Cornell University and Google who created an algorithm to determine what makes a good tweet. They also offered an online quiz that allows you to test your social media smarts and try to beat the algorithm. The quiz taker must determine which variation of a particular tweet outperformed the other.
Anyone can write a tweet, but how do you write one that gets noticed? The O'Reilly DePalma social experts Nora DePalma (@noradepalma), Alexa Horowitz (@ajkh92) and Christine Whittemore (@CBWhittemore) helped us break down the findings of the study, as well as other Twitter marketing strategies that make a tweet good.
A few Twitter marketing strategy considerations:
1. Is it important/informative to your target audience?
In general use, Twitter is all about breaking news and it's one of the main reasons people use and like Twitter. In fact, Twitter often "knows" about hot, breaking news before the mainstream press (e.g. the Boston Bombing).
In the design and construction industry, Twitter also serves as a water cooler of sorts, connecting professionals and manufacturers in design and contractor firms, and journalists. Since tweets are more likely to circulate if the information has an increased social exchange value, according to Business2community.com, a successful Twitter strategy is to share interesting "news" or facts that appeal to the industry segment you wish to target.
2. Is it to the point?
Direct and concise tweets sometimes win over longer tweets. The Cornell/Google research points out that while longer tweets presumably provide more information, shorter tweets can still pack a punch. Shorter tweets have a better chance of being retweeted, particularly when they contain only one hashtag. In either case, clarity and a clear call to action is key to keeping the attention of your audience.
3. Does it imitate a news headline?
Would you click on it? The principles of headline writing still encapsulate the story in a way that entices the audience to read on. Including a link with your "headline-like" tweet can help drive the success of the tweet and the link.
4. Are you taking the community into consideration?
They don't call it "social" media for nothing. It's not only important to be courteous to your audience, but also to provide them entertaining, conversational and relatable content. Incorporating humor into tweets is a strategic, effective way to draw people in.
Having a good understanding of your audience will allow you to mirror the language and style of your community, according to the research. This leads to greater recognition, acceptance of your ideas and, as a result, maximum reach.
Another community-related consideration is whether you're talking "with" people or "to" them. Social affirmation/proof can be achieved with @mentions and addressing both positive and negative feedback. Engaging with the community is crucial because it keeps a conversation going. Asking your audience questions is a great way to interact with your community.
5. Is your tweet structure optimal for your goal?
Action words make for more compelling writing in general, and the same goes for tweets. A clear call to action is also vital to achieving your Twitter goals: Imperative phrases, asking to retweet or 'RT' and/or providing a link to your website or blog give your audience gateways and guidance on what you want them to do.
Imagine that a tweet is the message within a model of communication. An important part of a model of communication is the noise that affects the transmission of the message. Having too much going on in your tweet structurally can hinder the audience's ability to decode the message. A good tip is to determine what the goal of the tweet is before writing it. Your goal could be to get the audience to share information, a photo or video (which can make content increasingly engaging), a link to drive traffic to a website, or just igniting conversation.
The bottom line is that just like other forms of communication, there are many factors that come into play when constructing an effective and successful message, such as timing, context and tone. Tweeting is easily done, but tweeting well is a different story.
For more information on how to boost your social media skills, check out our 10 Tips on How to Effectively Use Social Media. Let us know what Twitter marketing strategies have worked for you! And don't forget to follow O'Reilly DePalma @oreillydepalma.